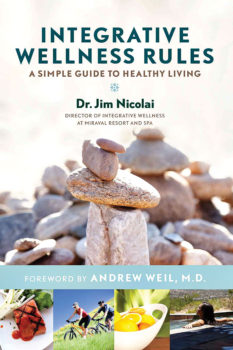 Barbara Barr
"Dr. Jim," as he is called, will be speaking at SaddleBrooke on Friday, March 8 at 2:00 p.m. in the MountainView Ballroom. Dr. Jim Nicolai is a board-certified family practitioner as well as a graduate of the Arizona Center for Integrative Medicine fellowship under the direction of Dr. Andrew Weil. Dr. Nicolai is the former Medical Director of the Integrative Wellness Program at Miraval Resort and Spa, and he headed up the first interactive integrative wellness programs of its kind at a destination spa resort. Dr. Jim is also the author of Integrative Wellness Rules: A Simple Guide to Healthy Living, and has a special interest in whole-person medicine. His expertise is in combining conventional medicine with the intelligent use of holistic therapies. In 2016, Dr. Nicolai received his certification as a hospice medical director demonstrating his vast experience, knowledge, and skills in hospice medicine. He currently serves as the Medical Director of Casa de la Luz.
Dr. Jim, as well as a host of other professionals, will be featured speakers at our monthly meetings in SaddleBrooke. SaddleBrooke residents, Patricia Gould and Barbara Barr, are starting a new group to build a community of like-minded learners who desire to know more about wellness. The group will feature professionals to discuss a wide range of wellness topics. With the focus on good health rather then illness, Patricia and Barbara decided to name the group the "Wellness Integrated Network" or W.I.N.
SaddleBrooke's interest in wellness has far surpassed our wildest expectations. We have had to move our meetings to the MountainView Ballroom. As the Ballroom is constantly booked for SaddleBrooke events, the wellness meetings will take place at a variety of dates and times when the Ballroom is available. Members and interested visitors should watch for dates and information in the SaddleBrooke papers and other announcements.
The Wellness Integrated Network is open to all SaddleBrooke residents. Come join our community of learners as we find out how to make our golden years even brighter and healthier. Watch for details in the papers and other announcements. You can also contact Patricia Gould or Barbara Barr at [email protected] or call Barbara
at 520-358-1111.